You can learn so much about your audience's interests and texting preferences by using subscribers tags, and in turn communicate with them based on these interests.
Using subscriber tags and segmented broadcasts together will allow you to learn more about your audience and send curated broadcasts to certain subsets of your subscribers. Below you'll find some examples of how you may choose to use them.
---
Example 1
Tom runs a Subtext campaign that provides subscribers with a daily text about news stories he found interesting that day. He normally only texts on the weekdays, but wants to start sending texts on weekends too. Tom sends the following broadcast to all of his subscribers to create the "weekend" subscriber tag.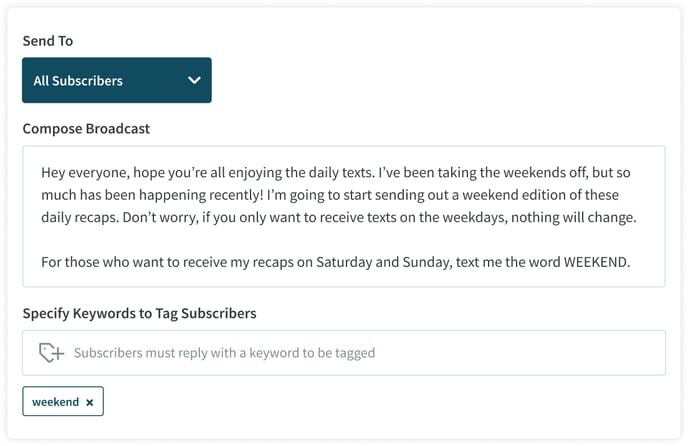 250 of Tom's subscribers reply to his campaign with the keyword "weekend." Now, whenever Tom wants to send a daily recap text on the weekend, he can send a segmented broadcast only to those subscribers.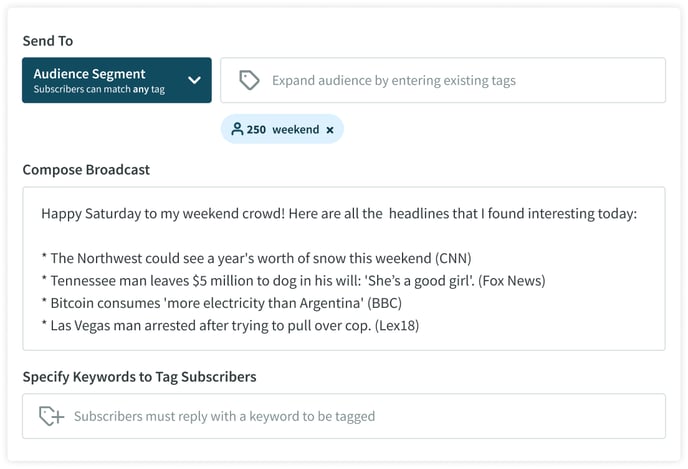 ---
Example 2
Oscar runs the Subtext campaign for a leading sports publication covering news and rumors about Los Angeles sports. Since he covers many different sports for many different teams, he asks his subscribers to let him know which teams they're fans of, so they can get the most tailored experience from the campaign. He also creates an "all" tag, for subscribers who want to receive news about all of the teams.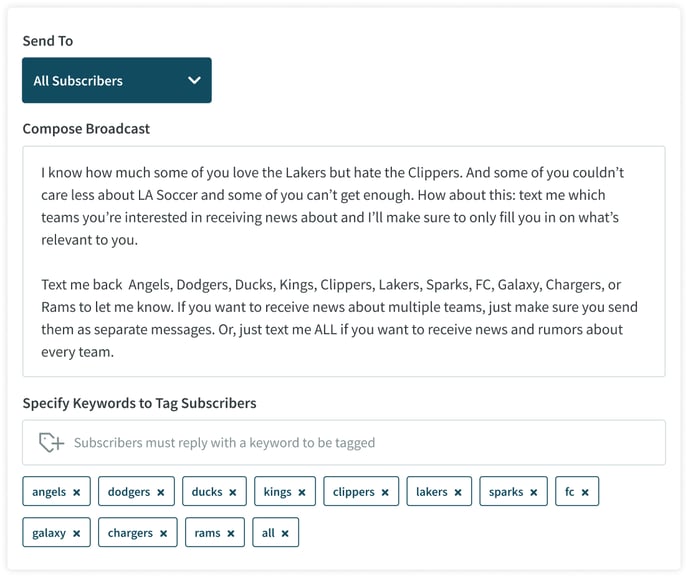 Whenever Oscar has some news to share, he can share it with only the relevant subscribers who would be interested in it. When he creates a broadcast he sets the audience to "Subscribers can match any tag" and includes the relevant tags. In the example below, he's been tipped off to a trade rumor that pertains to both the Lakers and the Clippers. He includes the tags for those teams in his segment, and makes sure to also include the "all" tag. With this segment selected, any subscribers who are interested in Lakers, Clippers, and general LA sports news will receive the broadcast. His subscribers who only care about Los Angeles football, soccer, baseball, or hockey teams will not receive the broadcast.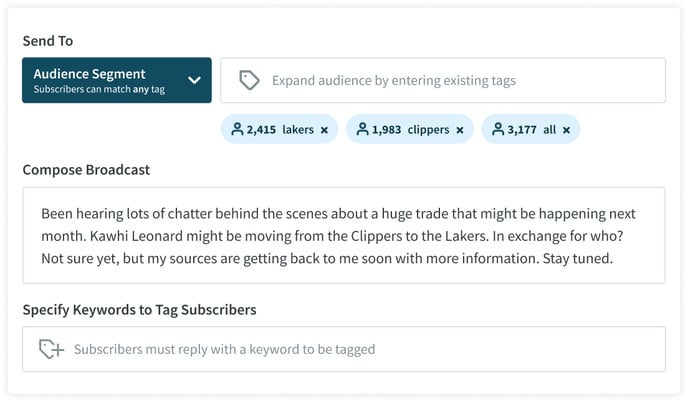 ---
Example 3
Jenny is a popular food influencer in the tri-state area, and sends her Subtext subscribers recipes, nutrition tips, and restaurant recommendations. Over the course of a few broadcasts, Jenny uses subscriber tags to gather more information about her subscribers, such as: Which state they live in, what types of food they like, and if they're interested in attending food meetups. Jenny sends the following broadcast to organize her next meetup in New York City.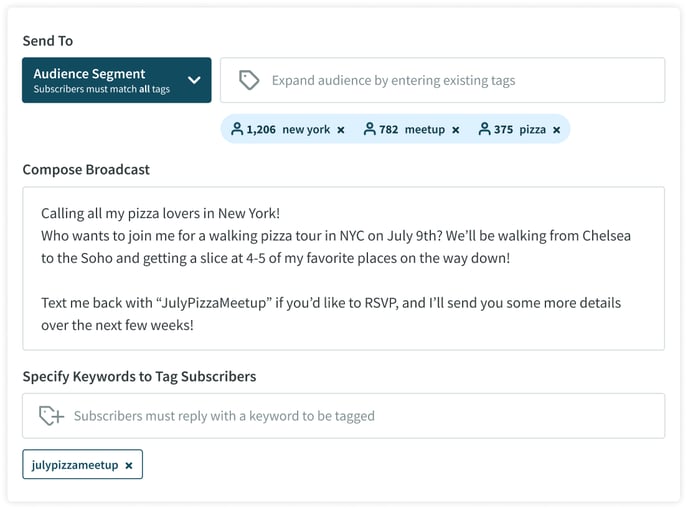 Because Jenny selected the must match all tags Audience Segment with the tags new york, meetup, and pizza entered, the only subscribers who will receive the broadcast are those who live in New York, like pizza, and are interested in attending meetups. Though each of these individual subscriber tags have plenty of subscribers, the number of subscribers with all 3 of these tags is likely much lower. Jenny can now create a new subscriber tag to keep in touch with only the small segment of subscribers who are actually interested in attending the meetup.